Monday, March 1st, 2010
Although there are still exterior awnings and deck railings to fabricate, all of the interior metalwork is now complete. Thanks to the precise skills of Pacific Northwest metal master Olda Zinke, I now have interior steel railings all around the house that look like this: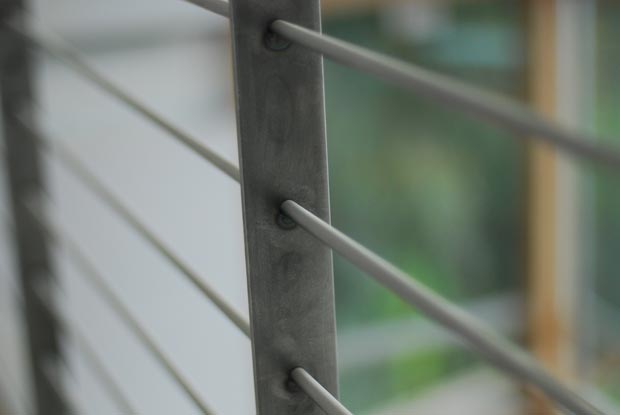 The railing above is from the catwalk, and there are also rails lining two flights of stairs. Photos of those are available in the gallery. It's a bit unfair to Olda to show these photos at this stage because the railings are still dusty and the stair treads are only temporary (homemade thick bamboo treads will be going in shortly) but I'll post plenty more shots when everything is all cleaned up and fully fabricated.
If you look through the shots in the gallery, you'll notice that the stairs are made with one hot-rolled steel stringer on each side attached to the cold-rolled steel railings. This was a bit of a surprise to me as I was expecting a single steel beam down the middle supported the treads from the center. The communication between Build and me could have been a lot better here, but in the end, I think the two stringer system may be a better overall look, especially considering one is recessed into the wall, providing a nice viewport through the treads to the panaromic view behind them.
Costs accrued during this stage:
| | |
| --- | --- |
| Interior metalwork (Olda Zinke) | $21,765.00 |
| Metalwork delivery charge (Pacific Delivery Service) | $316.00 |