Interior Lighting Detail
September 30th, 2010
Finally, we come to the final post on this blog that involves a stage of the project and the expenses associated with it. Whew!
Onto the subject of the post: lighting.
I came into this construction project liking one type of lighting above all others: indirect lighting. Indirect lighting usually comes in two flavors: cove lighting and sconce lighting.
That's three sentences in a row with colons, by the way.
Cove lighting is a style of lighting that conceals the entire light fixture behind a ledge in the wall such that you only see the reflection of the light on the walls and ceiling but never the light itself. It's a warm, subtle effect that gained popularity in midcentury design and can still be seen in modern projects today.
Sconce lighting also hides your bulbs from view but within a wall mounted fixture instead of behind a ledge. Sconces are more popular in traditional interior design than modern interior design but there are some great examples of how they can be used even in the most modern of settings.
As much as I like both of these forms of indirect lighting, we didn't end up using them in the house. The clean, minimalist lines of the house just seemed like a better fit for recessed can lights and hanging pendants. This strategy provided us a cost-effective way of lighting most of the areas (cans) and a decorative, changeable option for selected areas like the kitchen, dining room, and great room (pendants).
For the cans, we went with some pretty standard Lightolier 4 and 5 inch enclosures which aren't worth discussing much. All of them point straight down now but we'll be replacing several with pointable eyeball-style ones to direct light more dramatically at a few walls.
For the pendants, we had three areas to outfit: the great room, the dining room, and the kitchen. Fortunately, we found these George Nelson Criss Cross lamps right away and ordered three of them to hang low in the great room. To light the ceiling in the great room, we went with eight fairly cheap Lite Source Olwen Contemporary 3 Light Pendants. We felt fairly confident in our choices for the great room so dropping $2000 and change for the 11 fixtures was not a huge deal.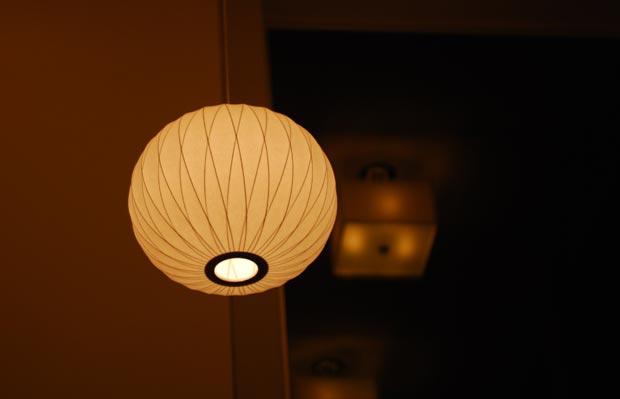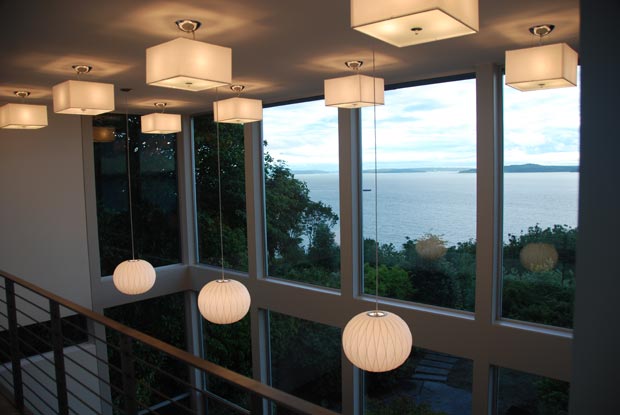 For the dining room and kitchen, however, we were much less confident. Because we had to purchase the lights before the cabinets, floors, appliances, and furniture were in, it was a big leap of faith to purchase anything. We comprehensively scoured several major online lighting sites (with tens of thousands of items each) as well as visiting some local lighting stores. After weeks and weeks of combing, we settled on a short list (!) of about 15 fixtures for the kitchen and 15 for the dining room. We then sent the list over to team Build for their expert opinions and they whittled the list down to a few for us.
Even with the comprehensive searching and comprehensive whittling, we felt there was a good chance we wouldn't love our choices after the rest of the house came together so we did the safe thing: we picked relatively safe, inexpensive choices from the list knowing we might replace them soon. The choice for the kitchen was four Lite Source Ethel Transitional Pendants because they matched the wenge cabinets nicely. At $57, these were a steal and ended up working out great.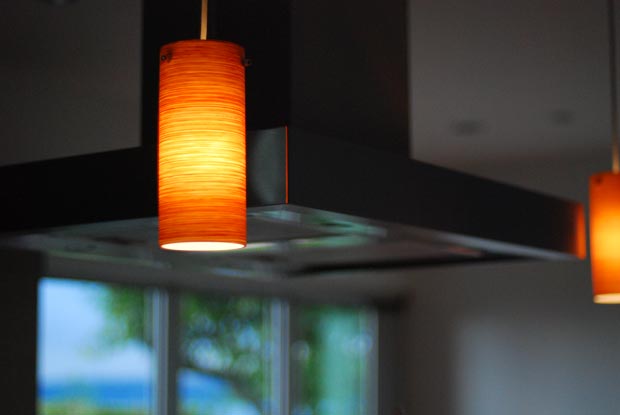 For the dining room, we went with three LBL Lighting Cypree Small Pendants because they looked elegant and didn't obscure the view from the front door through the dining room window. While these look ok, we aren't thrilled with them because they don't light up the ceiling in the dining room enough. Since we don't have any cans in the dining room, we really need a fixture that will radiate light in all directions, so sadly, these are probably going to have to be replaced. We are currently looking for a light that fits the bill so if any come to mind, let me know.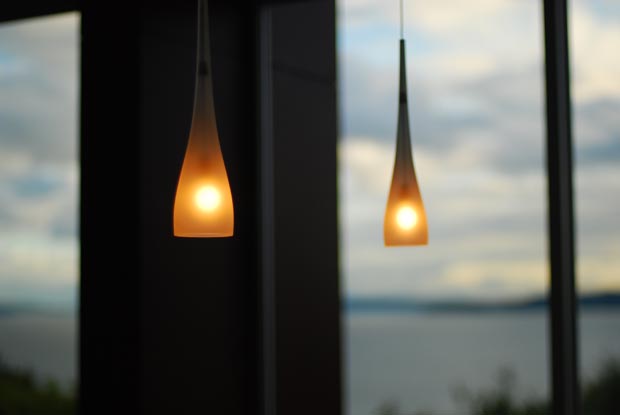 Finally, if you're looking for the best places online to look for lighting, my vote goes wholeheartedly to LightingSale.com. Their selection is fantastic, their prices are almost always the cheapest, they ship quickly and inexpensively, and their service is great as well. Two thumbs up. We also ordered lighting from Arcadian and YLighting and had good experiences. In general, however, LightingSale.com takes the cake.
What's next
Since all stages of construction are now documented, it's time to start writing the wrap-up posts. There will probably be a couple of them. First up: a breakdown of the final costs. That will be coming shortly. I also need to stitch together the final time lapse. Soon.
Costs accrued during this stage:
| | |
| --- | --- |
| Four kitchen pendants (lightingsale.com) | $207.00 |
| Three George Nelson Criss Cross pendants (ylighting.com) | $1,077.00 |
| Longer cords for Nelson Balls (Seattle Lighting) | $26.00 |
| 8 Lite Source LS-19147 Olwen 3 Light Pendants (lightingsale.com) | $835.00 |
| LBL Lighting Cypree Small HS463 Dining Room pendants (Arcadian Lighting) | $801.00 |