Smarter Space Usage with Sliding Doors
September 21st, 2010
One of the things that can make a house feel too big is an abundance of hallways and rooms. You know the style: you walk in and there are three hallways leading to different places. You walk down one and it leads to a couple of bedrooms and a study. You walk down another and it spits you out in another bedroom, the kitchen, or the rec room. Yet another leads you to the living room, a bathroom, and another spare room. Tightly tunneled houses can feel very wasteful, and especially if you don't have a big family in the house, many areas of the house feel unused.
We wanted to create big, open spaces in the house, not only to maximize the views but also to make the most of the circulation space throughout the house. This strategy produced a house that is great for entertaining and everyday living, yet doesn't feel too big or unused. In order to shrink some of these open spaces when we need to, however, we used Raumplus sliding glass doors in three strategic locations throughout the house: the great room/TV room junction, the kitchen/office junction, and the upstairs laundry area/hall junction. The sliders between the great room and the TV room serve an additional purpose in that they darken the room during bright days, allowing for more pleasant TV viewing.
We chose Raumplus system because they are sharp looking and slide along a barely noticeable set of rails set flush into the floor.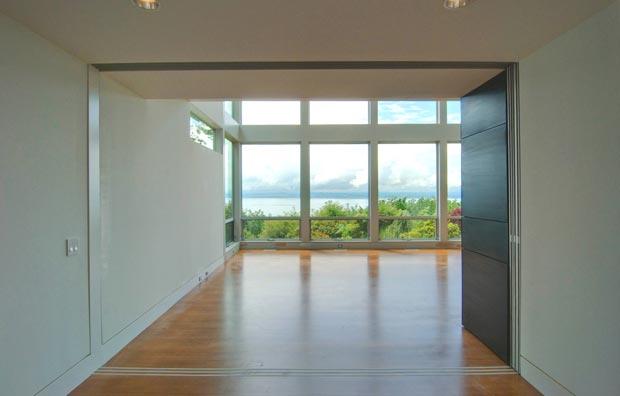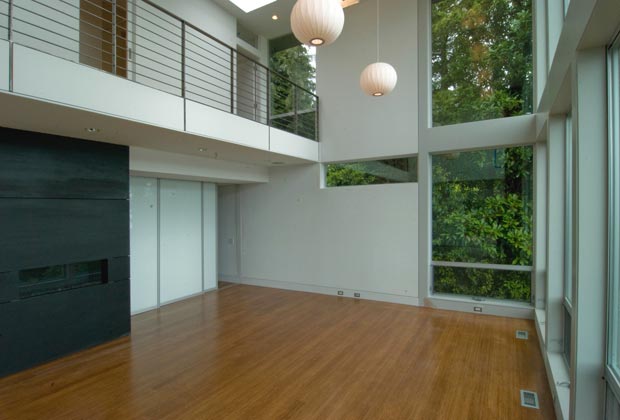 Costs accrued during this stage:
| | |
| --- | --- |
| Raumplus sliding doors | $11,189.00 |