Hardscape Detail
September 21st, 2010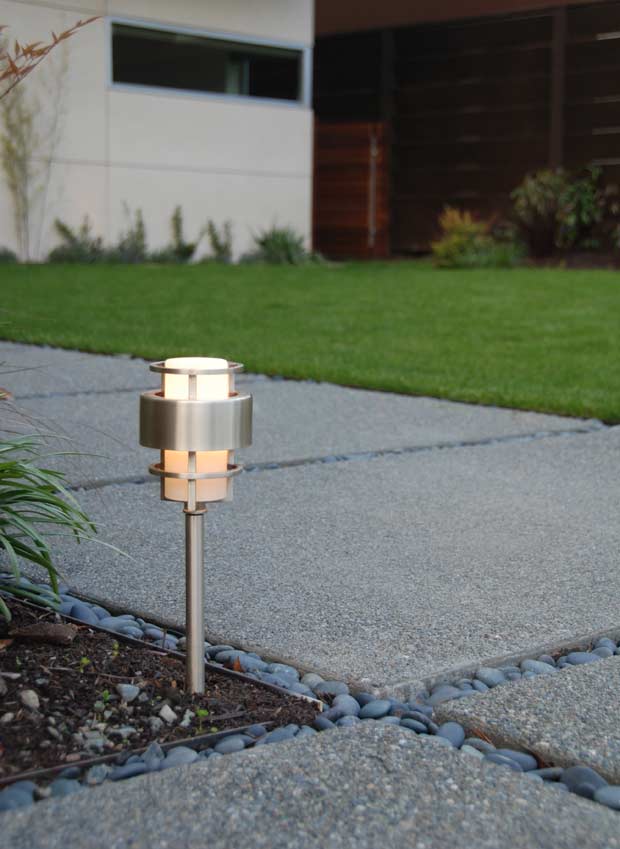 One of the most successful aspects of the entire project, without question, has been the hardscaping. Not only were the contractors — Jim and Jim of Blackhawk Construction — among our favorite people to work on the job, but we feel like we got a lot of really sharp looking exterior concrete work done for a very reasonable price.
Concrete comes in many flavors. It's often hard to explain exactly what you are looking for, so early on, we searched the neighborhood for samples that looked nice. Luckily, there was a driveway only a few blocks away that featured exactly the style we had in mind: medium grey with a finer than normal aggregate. The finer grain provides a more modern look in our opinion, so we had the Jims whip up a few samples to look at. They nailed it on the first try and immediately began work on our back steps, our side walkway, our front pavers, and various other concrete forms around the exterior of the house.
Another touch we added was the placement of Mexican beach pebbles between the pavers and surrounding other parts of the house. Though ostensibly Mexican, they provide a very Japanese feel. We ordered them from Coverall Stone.
Make sure to check out the full hardscape photo collection in the photo gallery.
Costs accrued during this stage:
| | |
| --- | --- |
| Gravel (Salmon Bay Sand and Gravel Co.) | $876.00 |
| Concrete work (Blackhawk Construction) | $20,119.00 |
| Concrete stairs, wall, and other hardscapes (Blackhawk Construction) | $5,985.00 |
| Concrete treads for garage landing (Diamond Concrete Products) | $547.00 |
| Steel rails bordering path pebbles (Everett Steel) | $406.00 |
| Exterior stairs (Olda Zinke) | $2,069.00 |
| Delivery charges (Pacific Delivery Service) | $272.00 |
| Mexican Beach Pebbles (Coverall Stone) | $1,340.00 |