Tuesday, September 2nd, 2008
On Friday, I went in to Build to look at some initial "pre-design" work. What is pre-design work? Well, it's mainly an attempt to apply some loose parameters to the project before actual schematic work begins. Things like:
"Should the garage stay where it's at, or do you feel strongly about moving it?"
"Do you feel strongly about the location and bearing of the master suite?"
"Would you prefer the great room to be completely open or do you envision separator walls dividing the space a bit?"
To help answer these questions, Build drew up this matrix of four such questions and three possible answers to each question: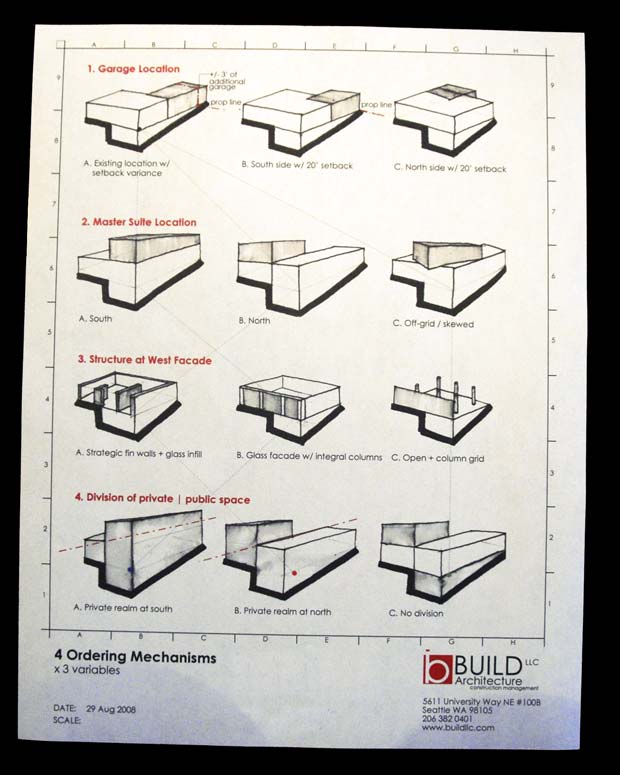 By seeing this matrix illustrated above, I was able to more clearly form opinions about what I like and what I don't. Although it doesn't come close to answering every design question, it doesn't aim to. It's designed solely to cast the boat off in the right direction.
As a further exploration of the above drawing, Build produced three rough concepts, each using a different permutation of the options above. The results are below: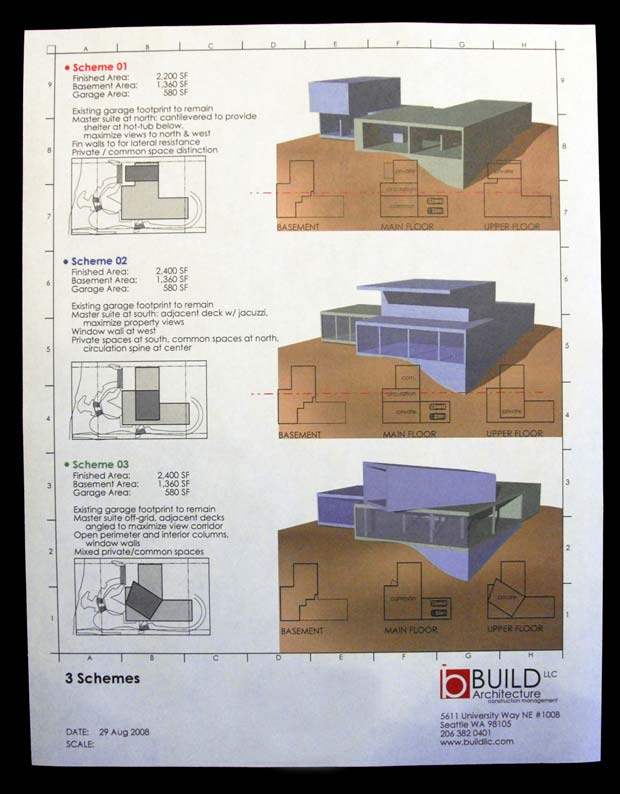 I can't say I want my house to look entirely like any of these three concepts, but seeing them drawn out helped solidify my opinions about the four questions and then some. Particularly, I've decided that:
The garage should stay where it's at, on the south end.
The master suite should probably be in the middle, or the north.
The west facade should use integral columns and be as open as possible.
No decision on the horizontal separation of public and private space yet, but leaning towards a vertical separation.
In addition to that, the drawings solidified my opinion that the great room should be double-height and at the southwest side of the house.
All in all, a very useful meeting! So far so good!