A short post about the fireplace, the stairs, and the awesomeness of Bart
September 15th, 2010
In the web business, there is a chain of people involved in most projects. Chronologically speaking, it goes something like this: client (who hires the firm), account planner (who writes the brief), designer (who designs the mocks), engineer (who writes the backend), and then the "front-end developer" (who puts all of the pieces together and makes the finished product work). As anyone in the web business knows, the person who often gets the short end of the stick is that last cog in the chain. Any number of delays or problems can occur earlier in the chain, and the last person is still expected to hit the agreed upon date.
In the design/build process, that person is the builder/foreman, and at Build LLC, that person is Bart Gibson. As Kevin, Andrew, and I muck around on details, drop the occasional ball, or change our minds on something, Bart is still expected to make all the ends meet, on time and on budget. Not only did he do exactly that — stage after stage, nail after nail — but he also lent his craftsmanship to two notably custom parts of the house: the blackened steel fireplace surround and the open bamboo stair treads.
The fireplace surround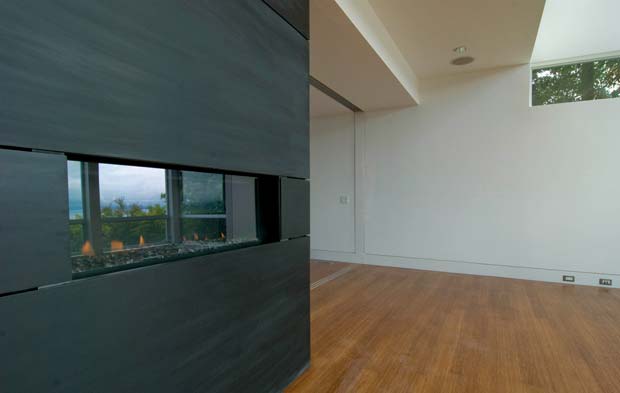 As mentioned in We Have Fire, we ended up going with a modern Heat N' Glo Cosmo fireplace. It's a clean looking unit, but recessed into drywall, it doesn't command a ton of attention. To give it more presence in the great room, Bart fabricated a custom blackened steel surround for it. The steel panels create a striking vertical stack while also providing a thermal mass to more efficiently radiate heat throughout the room. Apparently you can blacken steel using either a hot or cold process. The hot process is extremely dangerous however (and can kill you) so thankfully Bart used the cold. It looks really great.
The bamboo treads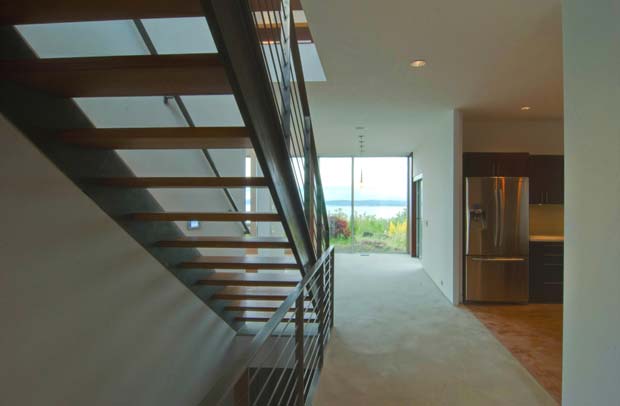 It's very hard to find open stair treads that are more than an inch thick and don't have unsightly bullnoses on them, especially in bamboo. Open tread regulations are much stricter than they were a few years ago because of fears that a child could fall through the treads, but if you plan correctly, you can fabricate custom stairs that are plenty safe but also minimal in appearance.
Starting with large slabs of bamboo plywood, Bart built each two-inch thick stair tread by gluing two one-inch slabs together using a special cut such that the whole thing looks like one two-inch thick solid piece of bamboo. They are really, really beautiful, and because Bart stained each one individually, they match the bamboo floor almost perfectly. If you're looking for a really clean open tread design, this is a great way to go. The stairs took quite a bit of massaging to get perfect but Bart and the team at Build pulled it off flawlessly.
Costs accrued during this stage:
| | |
| --- | --- |
| Blackened steel fireplace surround (Bart) | $3,500.00 |
| Stair tread parts and labor (Build LLC) | $9,372.00 |