The concrete floor saga
June 6th, 2010
This is a post several months in the making. I'm only able to write about it now because it's officially resolved and I'm satisfied with who I should name, who I shouldn't name, and what the costs have been to me as a homeowner. As I've mentioned before on this blog, I'm very careful about naming subcontractors on this site because Google search results have the ability to make or break someone's business, depending on what is written about them.
I have three categories I put subcontractors in:
Did a great job, would recommend. So far, almost everyone has fit into this category. If you do a great job, charge me a reasonable fee, and are someone I'd recommend to others, I write about you here and link to your site if you have one. Hopefully this leads to more business for you. My landscape person, Alex at Alexandria's Creations, recently told me she's gotten a several new clients from this site, and I haven't even written the final glowing post on the landscaping yet.
Things didn't go well for one reason or another, but the person was honest and tried to make it right. In this situation, I write about the process but keep the contractor's name out of it. Only a few subcontractors so far have fit into this category. If I wrote about the entire process and named the company, it would have the effect of casting the company/person in a negative light, and I do not wish to do this. If you are honest and tried to make things right, you shouldn't be subject to a full writeup about everything you did wrong.
Things were a disaster and I want to publicly warn readers to stay away. Nobody has fit into this category yet, but there have been a couple of situations where the final resolution saved someone from this group and put them in the previous group.
I don't tell any workers about this system and I've never used it as an overt incentive/threat in order to get anything done. Not a single time. If you're working on my house and you happen to find out about this site, you can draw your own conclusions as to how you may show up on it, but in most cases, people don't even know about it until they get referrals weeks or months later.
Ok, now that that's out of the way, on to the concrete floors…
In planning the "grand entrance" for the house, we had a lot of choices: bamboo to match the floors, concrete to tie in with the steel, slate to keep things affordable, and linoleum to completely ruin the entire project if we so desired.
We liked the idea of concrete the best, but because of the existing subfloor elevations and some weight issues, we couldn't do a full, thick poured concrete floor. We were turned onto a product, however, that's been around for quite awhile now called a "concrete terrazzo overlay" or "decorative concrete overlay" floor. It's essentially a poured floor made of concrete and aggregate but is only an inch and a half or so thick. It was about the most expensive option available at about $9,500 for 400 square feet. This cost included in-floor heat, but it was still probably twice the cost of something like slate. Nevertheless, it was a very public part of the house, so we went for it.
Around the beginning of February, work started on pouring the floor. It was only supposed to take a week or so, including the 7-step polishing process, but it ended up taking about 2.5 weeks. A loud, dusty 2.5 weeks. When the grinding and polishing was almost done, I noticed several cracks across the floor, some of them pretty major. Concrete workers always warn you that you should expect a few cracks when you choose concrete as a floor option, but given the fact that the thing wasn't even fully installed yet, I freaked out a little. The company tried to fix one of the cracks and it seemed to make things worse.
I wasn't feeling very good about things at this point, but we couldn't hold up the rest of the construction and needed to cover up the floor with protection for the next few months as other work continued. Given the fact that the company needed to come back towards the end of the project anyway to do the final polishing, the decision was made to just deal with it then (incidentally, I don't recommend doing this… deal with everything at the time, if you can).
Well, a few months went by, we completed most of the rest of the house, and it was time to uncover the floor and bring it up to snuff. To our surprise and dismay, there were now over 20 cracks in the floor. Mind you, none of these cracks were concerning from a structural standpoint as they were all hairline in size, but to have your brand new concrete floor dominated by very visible and ugly cracks is disappointing to say the least. We called the owner of the company in to have a look and were a bit worried he'd say this was "completely normal", but even he agreed this was out of ordinary and not something he anticipated.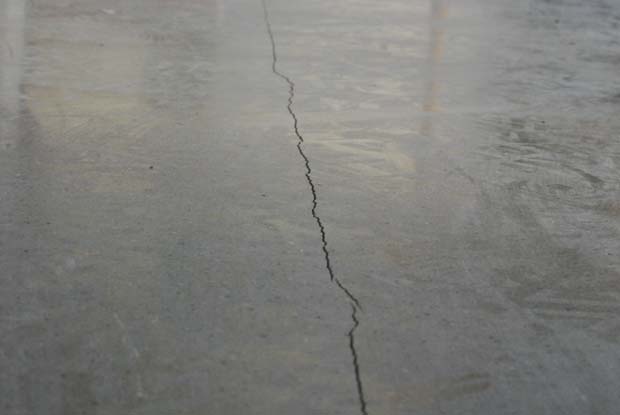 We had two options: try to fill the cracks with color-matched grout or grind the whole thing down and do something else on top of it (like more of this product or maybe ultra-thin slate tile). The decision was made to try the grout option first as it had the least project/cost impact. Unfortunately the grout ended up making the cracks even more conspicuous.
At this point, we called the company back and expressed our disappointment with the grout fix. The company did not immediately return our e-mails so we prepared ourselves for a situation where they would walk away from the project (I had paid them about $8000 so far and still owed about $1500).
Build recommended we call a company they'd used before called Cirvell that uses a product called Milestone, which is essentially hybridized portland cement. The product has a "hand-troweled" look and isn't as "shiny and pristine" looking as the concrete terrazzo overlay, but at only a sixteenth of an inch in thickness, it could be troweled on top of the existing floor with no grinding whatsoever.
We informed the original concrete floor company that we were proceeding with the Milestone option and that we felt a refund of half of the fees paid so far was a fair arrangement for both parties. This would leave me paying $4000 for a heated concrete subfloor, plus $2500 for the Milestone coat. To his credit, the owner of the original concrete company sent us a check for $4000 and we've now parted ways, sadly but amicably.
Although I was obviously not happy with the concrete terrazzo floor, the way the company owner handled the refund showed me he was an honest guy and someone who cared about the quality of the product and service he was providing. He could have easily just walked away and stuck me with the bill, but making things as close to "right" as possible was important to him, and that is why I'm not interested in steering readers away from his product. He's no doubt done hundreds of successful floors… just not mine, and for we know, there was something about the construction, or temperature, or humidity in this job which conspired to not let the product cure correctly.
Thankfully, the folks at Cirvell were able to give us an end result which we're quite happy with. They completed their work in only a few days, for a reasonable cost, and have graciously offered to come in and fine-tune the tint of the floor after we move in, if we desire. I do not hesitate to recommend them if you're looking at Milestone as an option in your own home.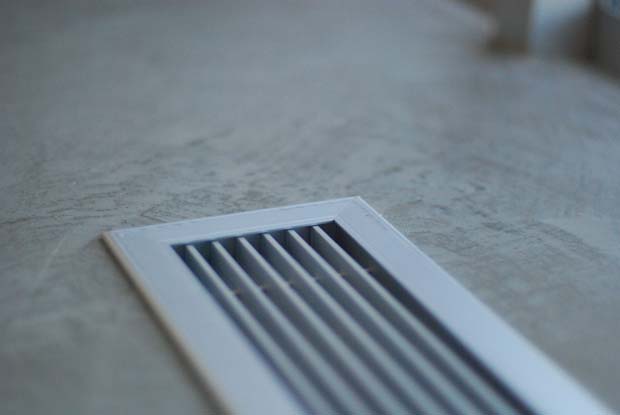 … and with that, the concrete saga is thankfully resolved. For more photos of the floor, please visit the photo gallery.
Costs accrued during this stage:
| | |
| --- | --- |
| Concrete terrazzo floor | $4,159.00 |
| Milestone overlay (Cirvell) | $2,500.00 |