The new awning and front stairs are complete
June 1st, 2010
We're in hopefully the last week of work right now, as various punchlist items get taken care of and we get ready to move in. One item I discussed several weeks ago in "Offing the Awning" was the poor appearance of the front canopy. I'm happy to say that this has now been successfully resolved and we have a beautiful new canopy in front which ties in much more tightly to the overall design of the house: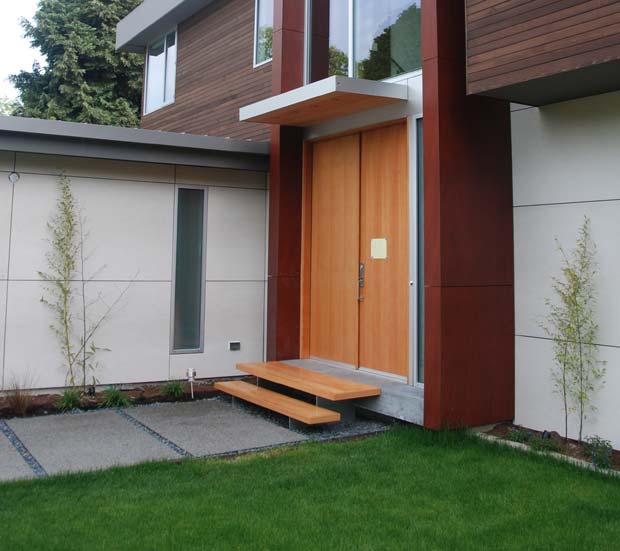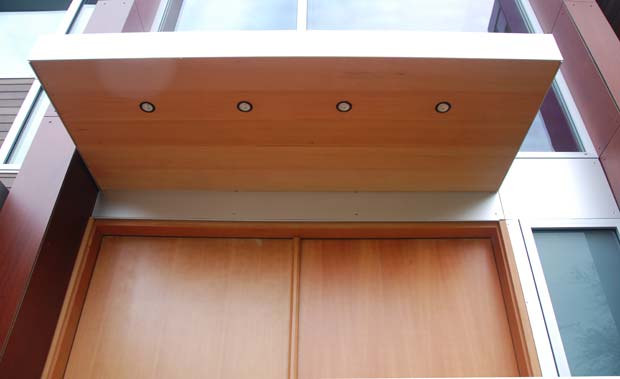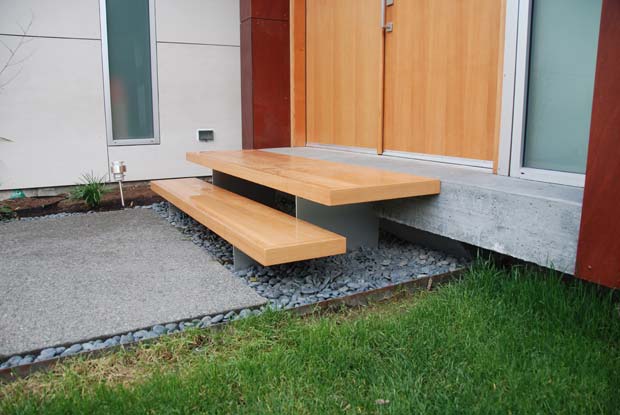 Overall, I'm extremely happy with the finished product. This is one of a handful of items we pushed back on very hard from a design standpoint, and although it felt stressful and unsatisfying at the time, I'm really glad we insisted on this refined approach. It cost me a few thousand dollars in the end, but since we're still using the steel frame of the original canopy inside of the aluminum/fir casing, it's still providing some value.
Not to be overlooked, the fir stairs are also the result of pushing back against a proposed solution (steel) that we never got comfortable with. The lesson for this phase of the project is: if you aren't comfortable with a certain material, insist that it be eliminated as an option early on. Occasionally you will be pleasantly surprised by such things, but more often, you know your tastes better than anyone else does.
Costs accrued during this stage:
| | |
| --- | --- |
| Front canopy fabrication (Twisted Metalworks) | $1,000.00 |
| Galvanize front canopy (Scott Galvanizing) | $416.00 |
| Aluminum for redone canopy (Alaskan Copper & Brass) | $687.00 |
| Aluminum anodizing for redone canopy (Hytek Finishes) | $300.00 |
| Delivery of anodized aluminum for redone canopy (Pacific Delivery) | $130.00 |
| Delivery charges (Pacific Delivery Service) | $352.00 |
| Miscellaneous materials (Compton Lumber) | $1,198.00 |
| Aluminum fabrication for redone canopy (Special Projects Division) | $832.00 |