Interior design is harder than it looks
February 28th, 2010
So far the toughest part of this project for my girlfriend and me has been picking interior finishes; particularly counters and tiles for the bathrooms. Having been in thousands of bathrooms before, we thought this would be a relatively easy endeavor. So much so, that we unfortunately gave ourselves only about a month of time to look at showrooms and select products.
Build has talked about choice and how too much of it can actually lead you away from happiness instead of towards it, and nowhere is this more apparent than in kitchen and bath showrooms. There are thousands of tiles, thousands of countertops, and thousands of faucets, sinks, and towel bars to choose from. It's so overwhelming, in fact, that I don't even have another life experience to compare it to. If you were remodeling and you just needed to pick a new floor tile, that might not be so bad, but when you're starting from scratch, you need to pick somewhere between 5 and 20 products, all of which must go great together. An employee at one of the tile stores told us to expect five trips to the store for every room you have.
After 20 or so trips to different stores, we found ourselves still at square one. A few ideas had emerged, but we lacked the confidence to try and put everything together on our own.
It was at this point when we finally cried uncle and sought the help of an interior design firm. Through the recommendation of a friend, we called Nancy Burfiend and Lana Noble of The NB Design Group and asked if they'd be willing to give us a bit of a last minute triage for our problem. Nancy's firm is very high-end and usually comes in a lot earlier in a project, but given that we just needed to make a quick decision on tiles, countertops, and a few other things within a couple weeks' time, she agreed to provide us some overall direction, answer our questions, and present a couple of options, all within a compressed time frame and on an hourly fee schedule.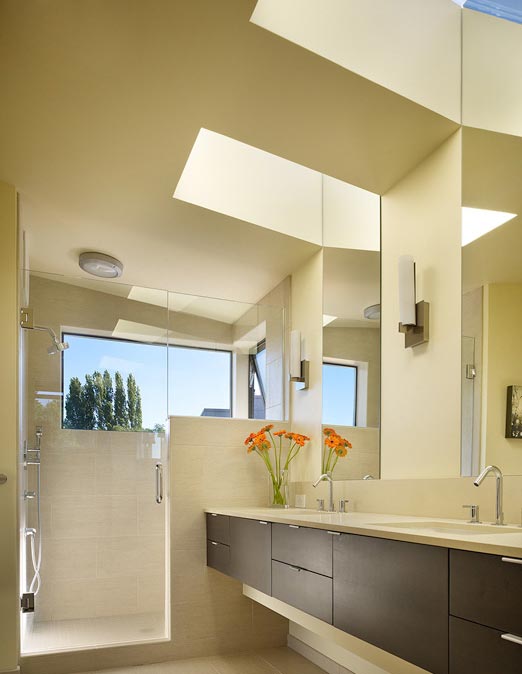 Aside from providing some excellent tile options, NB also gave us some great advice we wouldn't have otherwise considered, including:
When you're dealing with a small space, as we are in our bathrooms, you should try to use big tiles. Big tiles make small spaces seem bigger.
Use the same color tile on the floor as you do on the tub surround in order to keep the space from looking broken up.
Don't be afraid to run tile clear up to the ceiling.
Use similar elements in all bathrooms in order to keep the house from feeling too "novelty".
Be careful not to use too much overhead lighting in bathrooms as it's poor for applying makeup.
Frosted glass on shower doors can make bathrooms look smaller.
In retrospect, it's a bit silly to think we could have done a great job designing our kitchen and bathrooms without at least a small amount of help from interior design professionals. I have a self-service mentality about a lot of design work, but it was a major miscalculation to let this important element go so long without dedicated, professional help. In the end, we took a lot of NB's advice and selections while at the same time providing a few materials of our own, as well as following Build's advice for much of the rest of the interior. We won't know for sure until everything is installed, but by seeking out a great interior design firm, our confidence has gone from about a 1 to maybe a 9.
If I have any advice for aspiring home builders, it would be to not overlook this step. It's extremely difficult to get perfect and should not be left to last minute. Whether you seek out a full-service firm like NB or just use a solo interior designer, the end result is bound to be better than what you'd do on your own.
Costs accrued during this stage:
| | |
| --- | --- |
| Interior design consulting (NB Design Group) | $1,931.00 |