We Have Fire
January 13th, 2010
Drywall is almost done and siding is finishing up, so I thought I'd write a little about the fireplace that was installed several weeks ago and how we picked it.
Before we took down the old house, there was a bit of discussion about keeping the old wood burning fireplace. I don't mind traditional fireplaces at all, and the existing one carried with it the benefit of being able to heat both the basement and the main floor. In the end, however, the masonry just took up too much space and didn't fit the overall design plans. I was not sad to see it go, but I think Build might have shed a tear.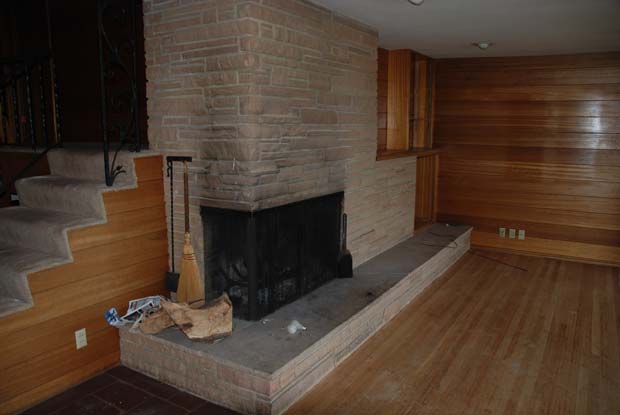 In shopping for a new fireplace, it quickly became clear that if I wanted something that wasn't going take up a whole lot of room, a gas or denatured ethanol burning one was the way to go. Although the ethanol burning ones were really sharp looking and flexibly designed, it seemed silly to buy one considering I'm already running a natural gas line to the house. The choice between never refilling my fuel supply and doing it every few/several weeks was easy.
When it comes to natural gas fireplaces, you can either go with direct-vent or vent-free. In a direct-vent setup, air is drawn in from outside the house while the fumes are blown out the same way. In a vent-free setup, air is drawn from the interior of the house, heated up, and then blown back into circulation. While vent-free fireplaces are generally thought to be safe enough, they do reduce the oxygen level inside a house, and some people point to this as a potential hazard. They are also a potential carbon monoxide hazard if improperly designed. For these reasons, it didn't make any sense to go vent-free, considering running a vent was relatively easy.
Another important safety consideration is purchasing a fireplace that is "UL Listed". This designation means that an organization called Underwriters Laboratories has tested the product for safety. Many insurance companies will not cover damage caused by non UL Listed fireplaces, so unless you're not worried about burning your house down, it's best to stick with UL Listed equipment.
If you're looking for a direct-vent gas fireplace, your options are abundant. There are probably 1000 models to choose from. If, however, you want a modern looking one without fake logs or other distracting elements, your choice of manufacturers drops to about 4. Not only that but your price explodes into the ridiculousphere.
To see what was out there and how much it would cost, I contacted three fireplace dealers in Puget Sound and was less than impressed with the results. Two of them had nothing modern and weren't particularly interested in pointing me elsewhere. The third one, Kirkland Fireplace, was even worse. I called to explain what I was looking for, and the guy on the other end told me he'd e-mail me some models to choose from. After a week, I still had not received an e-mail from him. Then I called again, told a new guy what happened with the first guy, and after apologizing he said he would send me the information. One more week went by with no email, no phone call, and no other follow-up from Kirkland Fireplace.
I don't understand how a place like this stays in business. It's like I'm calling them up and saying "Here, I have $5000 I want to place into your hands" and they are saying "Thanks, but we're playing X-Box right now." Especially in the middle of a severe economic/housing downturn, it shocks me that a place like this would be so unresponsive to unsolicited business. If you're looking for a fireplace, I would stay away from Kirkland Fireplace.
After researching the options from Montigo, Spark, and Lennox — the only UL-listed modern gas fireplaces available in the U.S. — I happened upon the spankin' new Heat & Glo site.
"Heat & Glo" you say?!?!
Yes! The trusty old manufacturer of fireplaces your grandparents would own.
Turns out Heat & Glo now makes a line of sharp looking modern fireplaces at convenient sizes and lower price points than their competitors. There were two models that looked great: the Red 40 and the Cosmo SLR. Both models were similar in appearance but the Cosmo was less expensive and didn't have the crazy LED stuff I didn't need. At just over $4000 delivered and installed, the Cosmo SLR was less than half the price of some of the other options (again, I can't believe how expensive a simple gas burner can be if it's marketed as "modern"… non-modern models can be had for $750).
Upon deciding to go with the Cosmo, the only question was where to purchase. Thankfully, I found Bill at Fireside Hearth & Home who hooked me up, delivered and installed the thing within three weeks, and gave me great service along the way.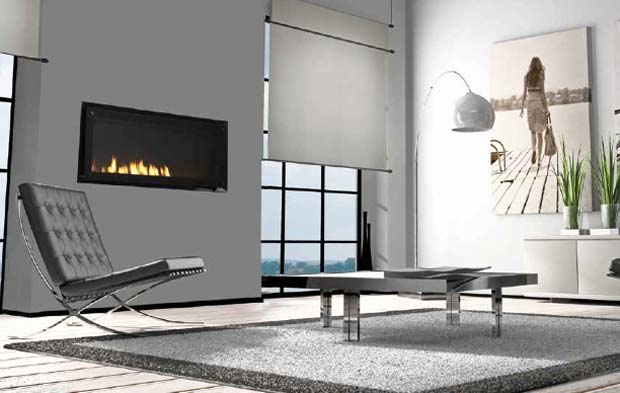 The fireplace isn't connected yet because we're still waiting for the gas line, but it's sitting pretty, ready to light up the living room right now. We'll be hooking up the gas line and installing the blackened steel fireplace surround in the coming weeks.
UPDATE: For a look at the finished fireplace, complete with custom blackened steel surround, see this post.
Costs accrued during this stage:
| | |
| --- | --- |
| Heat & Glo Cosmo SLR Fireplace | $4,319.00 |