Choosing a deck surface
October 26th, 2009
So far, none of my house-building research has yielded more negative information than deck construction. Everyone seems to hate their deck. People who have wood decks complain about having to stain them every year or two, and people who have composite decks complain about the material not being maintenance-free at all.
I've researched no fewer than 10 brands of composite decks and also looked into ipe and cedar, and there just doesn't seem to be a clear winning option. It's all about tradeoffs. The one thing I've decided I definitely don't want, however, is a faded ("silvered") deck. Some people like the weathered look. I don't. Therefore, ipe is unfortunately eliminated. It's a shame too because ipe is generally regarded as the most durable wood one can buy. Unfortunately, however, ipe is so dense that it doesn't take stains or protectants very well, so it is recommended you just leave it alone and let it fade to its natural patina. No thanks. I've heard of people using a product called Penofin to keep Ipe brown, but treatment must be frequent and results seem to vary.
Cedar is the other wood to consider, and while I think it would provide the best looking deck out of any of the options, it would require the greatest amount of maintenance, and I'm not sure I want to sign up for that.
From there, we get into the composites. Trex is the best known name in composite decking, but it's also the company that receives the most negative reviews and has been successfully sued for misrepresenting the quality of its product (actually, they settled out of court, but whatever). After Trex, there are a slew of companies selling their own variation of a composite deck, each one made with slightly different materials and esthetics in mind.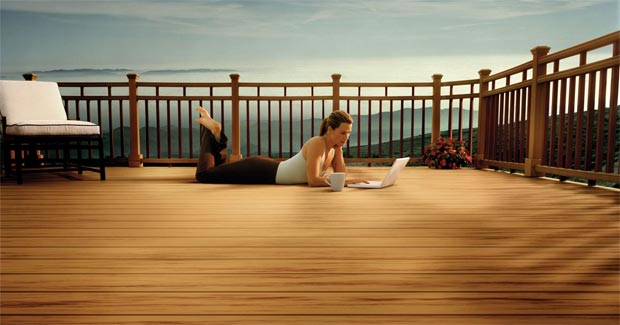 I found it next to impossible to find objective, scientific studies comparing deck materials, but it turns out Consumer Reports did a reasonable study on the subject recently. By the way, if you're building a house, buying an online subscription to Consumer Reports should be one of your first expenditures. The study took many different brands and exposed them to sun, wind, and rain over the course of several years. The results varied wildly, with some decks holding up admirably and others literally disintegrating to pieces. The material which came out on top is called Symmatrix by Dow Chemical. To my surprise, however, I found out the product has been discontinued, despite its great rating. Unbelievable… and a bit suspicious, to be honest. Why would a seemingly great product be abandoned by its producer? If anyone knows, please post in the comments.
The only other brand that scored nearly as well in all of the areas important to me was something called Timbertech. It's especially good at mildew resistance, and that's key. Unfortunately, Kevin at Build brought me a sample of it today (along with some Trex), and it has a fake grain texture to it that seems a bit chintzy. I may look at some more samples, but this particular one didn't look great.
Here is the concerning part though: do a Google search for Timbertech, Trex, or any other brand of composite decking and you'll see loads and loads of very detailed complaints. The ratio of haters to lovers seems troublingly high. It's enough to make you want to ditch the idea of planks altogether and go with concrete pavers or something.
I'm not sure where I'll end up yet, but I'd say so far, I'm favoring Trex, then Timbertech, and then cedar. Would love some first-hand opinions from anyone who has their own deck, so if you have one (a deck or an opinion), please feel free to post your thoughts below.
Incidentally, the best article and discussion I found on the subject was from Fine Homebuilding Magazine.