The Last Thing you Need is Another Credit Card, but…
July 15th, 2009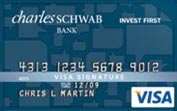 Although I can't put the entire house on a credit card, I can pay for a lot of its elements with one… like deconstruction, printing fees, legal fees, and plenty of other items. Because of this, it made sense to use the most lucrative credit card possible. My friend Calvin alerted me a couple of weeks ago to a new card by Schwab that gives you 2% cashback on every single purchase. Not bad at all, and much better than the tons of 1% cards and airline mile cards out there.
Furthermore, Schwab just deposits the 2% into your brokerage or bank account automatically at the end of each month. No more messing with rewards, redemptions, and other roadblocks designed to get between you and your refunds.
2% may not seem like a lot, but it adds up. I'd rather spend that 2% on upgrades than just have it disappear into the ether.