Garage Pour Complete
August 3rd, 2009
During deconstruction, it became apparent (via cracking) that the existing concrete carport was sitting on a few inches of air. Not good. Build decided, therefore, that it would be best to repour the garage foundation and footings at the same time we did some minor touch-up pouring around other parts of the foundation.
This phase was unexpected and added several thousand dollars to the cost of the project, but the folks at Blackhawk Concrete Construction, R. Leonard & Sons, Island Concrete Cutting, and Cascade Concrete Sawing ended up getting it done in only a few days, as framing began in other areas of the house.
There wasn't a lot to see on the webcam for this phase of the process because the garage area is blocked by a big metal container, so it will be combined with the framing stage, for timelapse purposes.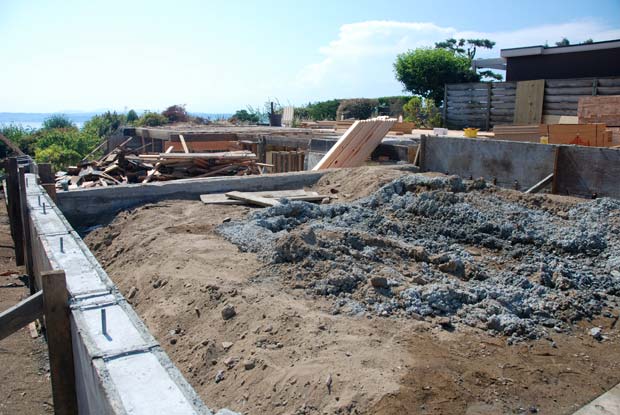 Costs accrued during this stage:
| | |
| --- | --- |
| Concrete pouring (Blackhawk) | $14,447.00 |
| Concrete and brick work (R. Leonard & Sons) | $405.00 |
| Concrete cutting (Island Concrete Cutting) | $383.00 |
| Concrete wall sawing (Cascade sawing) | $443.00 |
| Concrete slab sawing (Cascade sawing) | $821.00 |
| Special inspection for concrete epoxy work | $450.00 |
| Miscellaneous expenses | $57.00 |