The Appliance Package
August 8th, 2010
Choosing appliances can be either fun or frustrating, depending on what type of person you are. If you're satisfied to just have decent equipment that won't break down on you, I imagine searching the broad array of available equipment in stores and online is exasperating. If, however, you love researching features, prices, and new technologies, the whole process can be quite fun. It was fun for me. Here is what we picked and why:
Ovens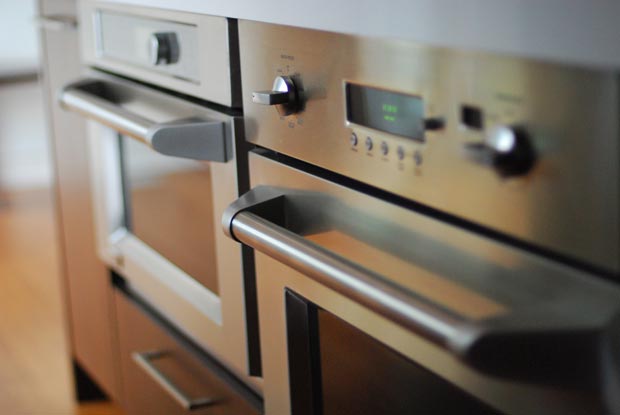 Many people will tell you if you're building a gourmet kitchen, you need two wall ovens. We do a fair bit of cooking, but two wall ovens seemed just a tad excessive. Additionally, we couldn't find a microwave that didn't look cheap (seriously, even Wolf microwaves look terrible) so we came up with a great hybrid solution: one GE Monogram ZET1PMSS convection wall oven and one GE Monogram Advantium ZSC2202NSS speed oven. They both look super pro and the speed oven is pretty amazing. It can cook food in four ways, even simultaneously: with standard electric heating elements, with a convection fan, with microwave rays, and with halogen lights. That last bit is the special bit. The halogen lights allow you to enjoy the speed of microwave cooking but still get the crispiness of traditional cooking.
Nobody ever recommends microwaving a steak, but I put a 10-ounce filet mignon in the Advantium and in exactly 10 minutes, it was more or less perfectly cooked (the steak setting uses all four modes of cooking).
With this solution, we have two ovens when we need them, one microwave that doesn't look cheap, a special way of speed cooking, and the whole setup only takes up two spaces in the kitchen island.
Cooktop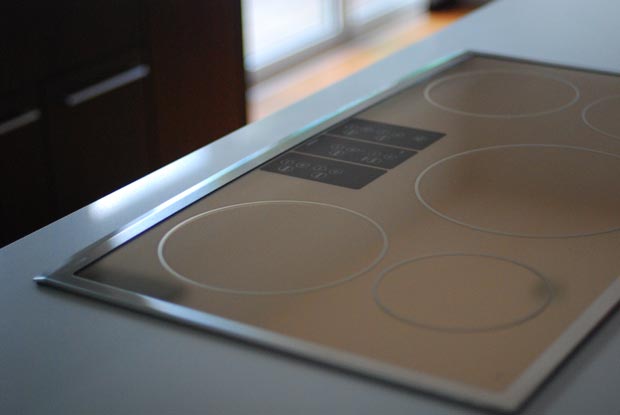 As discussed in Thinking About Induction Cooking, we thought about induction cooking. In fact, we thought so highly of it that we eschewed gas and went for the GE Monogram ZHU36RSMSS 36″ Induction Cooktop in silver. It's been a perfect purchase so far, doing everything we expected and more. It's quiet, safe, energy efficient, easy to clean, attractive, and oh so fast. My favorite "house demo" to do so far is pouring a quarter inch of water into a frying pan and watching it boil in under 10 seconds on the induction cooktop.
We didn't have a whole lot of good cookware to begin with, so we purchased a set of Pro-Clad Emerilware from HSN and a couple of Le Creuset pots to make the most of the cooktop.
If you're stuck using an electric cooktop or are thinking about putting in a gas one, do yourself a favor and check out induction. Thanks to my buddy Jim Ray of Salt and Fat for the initial recommendation and peer pressure.
Dishwasher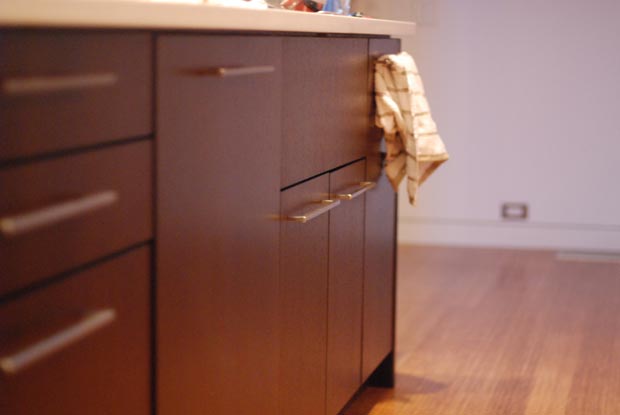 Based on the advice of some friends and family, we ended up choosing a Miele Optima G2472SCVI dishwasher over our previous frontrunner, Bosch. It's very quiet and the rack space is arranged intelligently and flexibly. I don't really have any complaints about it besides the user interface being a little, umm, austere. Thankfully you don't really use the UI of a dishwasher too often, but it looks like it was designed ten years ago. We got a fully integrated model, meaning there are no visible buttons or surfaces (it just looks like another cabinet). I do wish the little red light that tells you the thing is on shined on the floor instead of the underside of the cabinet, but oh well. All in all, it seems like a solid dishwasher so far.
Side note: Dishwashers were probably the most infuriating appliance to research. Almost every manufacturer's site, especially Bosch and Miele, are atrociously designed and impossible to get any useful comparison information from.
Kitchen Hood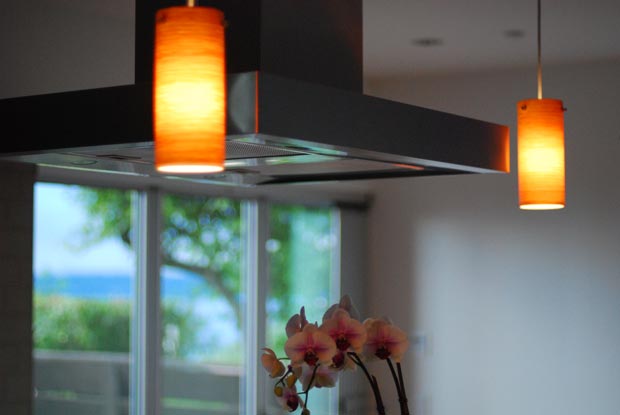 Kitchen hoods can be the biggest ripoff of all household appliances. It's basically a fan surrounded by some steel and these things can get into the $5000 range. Rubberduckulous. Via the recommendation of Build, we went with the sharp, understated Zephyr ZRME36BS Roma island hood. It was "only" about a thousand dollars and it's worked great so far. It sucks a lot of air, looks great above the cooktop, and doesn't attract fingerprints too easily.
Refrigerator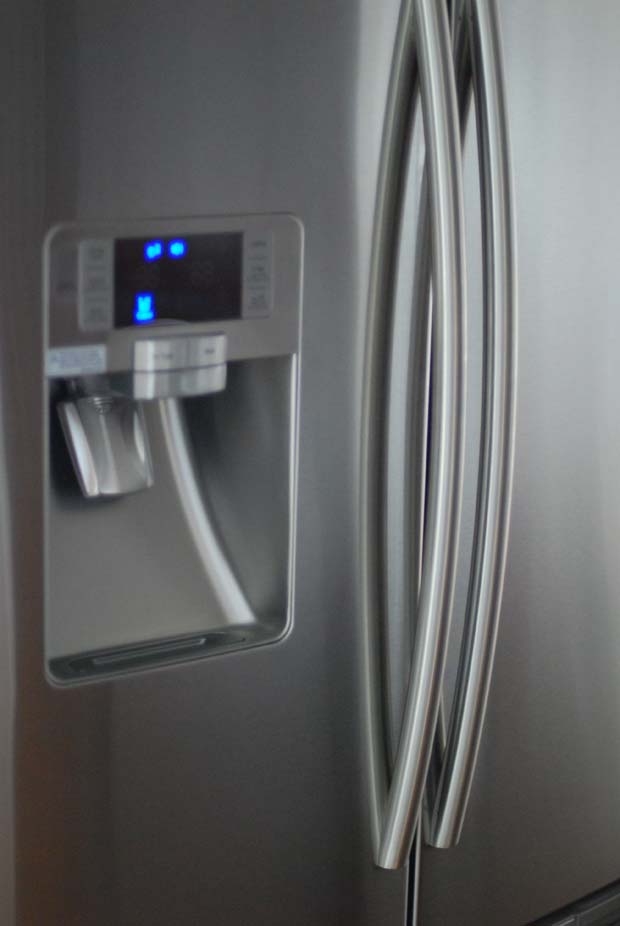 Refrigerators are one of those items you're really best of consulting Consumer Reports for, so we did. There are just a lot of things about fridges that you can't easily test out yourself (like how evenly they cool or how long they last without repairs) and CR has already done this work for you. Just about the only things we knew going in were that we wanted a french-door-bottom-freezer model because the layout was so convenient and that we wanted ice and water on the outside of the door. Thankfully, Consumer Reports' top-rated model, the Samsung RFG237AARS French Door refrigerator, fit the bill perfectly. We had originally spec'd the full depth model which is several cubic feet larger, but because of how the kitchen was designed, we had to switch to the counter-depth model. So far it's been a great fridge, although we will admit to still wishing we had been able to fit the full-depth version.
When people ask me what type of fridge I got and I answer Samsung, it often elicits puzzled looks. Usually people think of big Sub Zeros and Vikings when they think of gourmet kitchens, but read the reviews… they aren't great. The Samsung provided us all we needed: an attractive, well designed, well reviewed fridge with all of the features we wanted for an affordable price.
Washer and dryer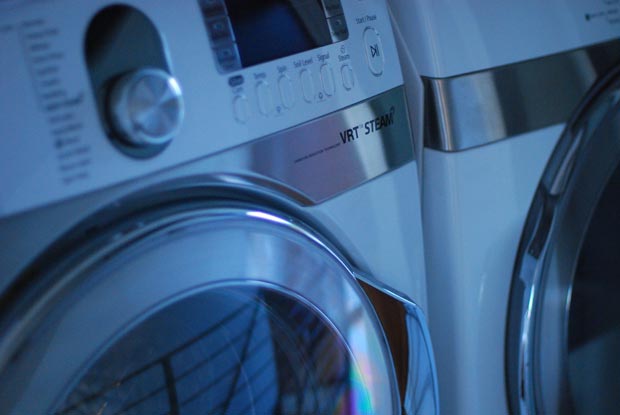 Much like fridges, washers and dryers are too complicated to fully understand without the help of a place like Consumer Reports. Since we put our machines upstairs, right next to the master bedroom, our number one concern was picking the quietest washer/dryer pair on the market. The number two concern after that was how well the machines laundered clothes, and the final concern was durability. In the end, it came down to either the Electrolux EWFLS70JIW (and matching dryer) or the Samsung WF448AAW Washer and DV448AEW Dryer. We loved the Electrolux user interface and purported 18-minute "short cycle", but according to all reports, the Samsungs were simply the quietest machines on the market and had a longer track record of reliability.
So far, the Samsungs have been spectacular. We've even grown to love the happyfun Korean melodies they play when they're done with their cycles. They also have something called SilverCare which needs to be seen to be believed. Watch this Consumer Reports video test of the technology.
All in all, we're very happy with all of the appliances we've chosen. Thanks also to Albert Lee Appliance Company for providing all of the non-GE appliances (I get an employee discount for the GE stuff since I work at msnbc.com). They matched or beat all online prices that I quoted over the phone to them, and as a result, got all of my business (hint: do this!).
Costs accrued during this stage:
| | |
| --- | --- |
| GE Monogram 30" Convection Single Wall Oven (ZET1PMSS) | $2,667.42 |
| GE Monogram Built-In Oven with Advantium (ZSC2202NSS) | $2,437.47 |
| GE Monogram 36" Induction Cooktop (ZHU36RSMSS) | $2,273.05 |
| GE 4 year extended warrantees | $328.34 |
| Miele Optima dishwasher (G2472SCVI) | $1,805.66 |
| Zephyr Roma island hood (ZRME36BS) | $999.73 |
| Samsung Washer (WF448AAW) | $1,299.77 |
| Samsung Electric Dryer (DV448AEW) | $1,192.45 |
| Samsung French Door refrigerator (RFG237AARS) | $2,206.43 |
| Delivery charge for GE appliances | $50.00 |
| Driptite custom washer/dryer pan | $141.00 |