All sealed up
November 11th, 2009
It's been raining like the bejayyyyysus in Seattle over the last week or so, but thankfully, the majority of the house has been sealed up just in time. Last week, the framing crew at Alexander's Custom Homes along with Build themselves, installed the following:
The largest of the Marlins weigh 350 pounds and measure approximately 9 feet by 9 feet. Unfortunately I wasn't there to film the action, but from what I understand, it took a crew of seven to jostle some of these giant glass forms into place. I find it amazing that not a single pane was damaged or dropped.
I know I routinely say good things about Build, but when a four man design/build shop shows up on site to help physically install 350 pound windows, that is pretty special… and these guys aren't exactly Lou Ferrigno either (check out Kevin's arms). They also saved me a ton of money when some of the windows showed up unexpectedly unglazed due to their weight. Calling a full field glazing team in to remedy the situation would have cost several thousand dollars, but because Build provided additional sweat equity, two field glazers were able to install everything in a few hours.
For some specifics on all the glass, read on…
The windows
The State of Washington made things very easy on me, decision-wise. If you have a two-story space to glaze and you specify aluminum frame windows, there is exactly one kind of window which meets the Washington Energy Code: the Marlin 1505 Series. While this is not good from a "shopping around to get the best value window" standpoint, it's good in that it's one less decision to make.
Energy codes are a controversial subject. Especially in states like Washington and Oregon, some people say the codes are so strict that they dramatically increase the price of construction without proportionate reduction of energy footprint.
The Marlins have a U-value of 0.35 which is right at Washington's limit. Smaller inoperable vinyl windows can get down to 0.15, but who wants a bunch of small, inoperable vinyl windows on their house?
The windows were supplied by Goldfinch Brothers out of Everett, WA and Marlin themselves are a Spokane, WA company so it was nice to buy local.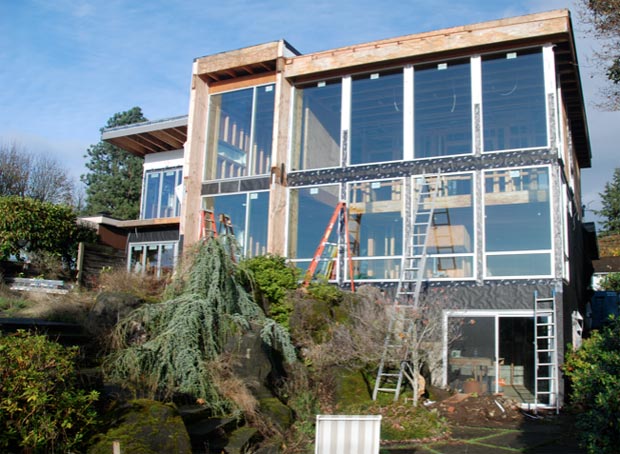 The NanaWalls
The Nanas are one of my favorite elements of the house. A NanaWall is essentially a sliding glass door that folds away like an accordion instead of sliding. The upshot of this is that the entire passageway can be opened, unlike a sliding door which is never really more than halfway open at any given time. Another nice feature of NanaWalls is that the first pane swings outward like a standard door so you can open and close it with ease. NanaWalls are especially good choices when you are trying to seamlessly connect outdoor space to indoor space, as I doing with my patio and north kitchen area. They are a little more expensive than Fleetwood sliding doors but worth it, in my opinion.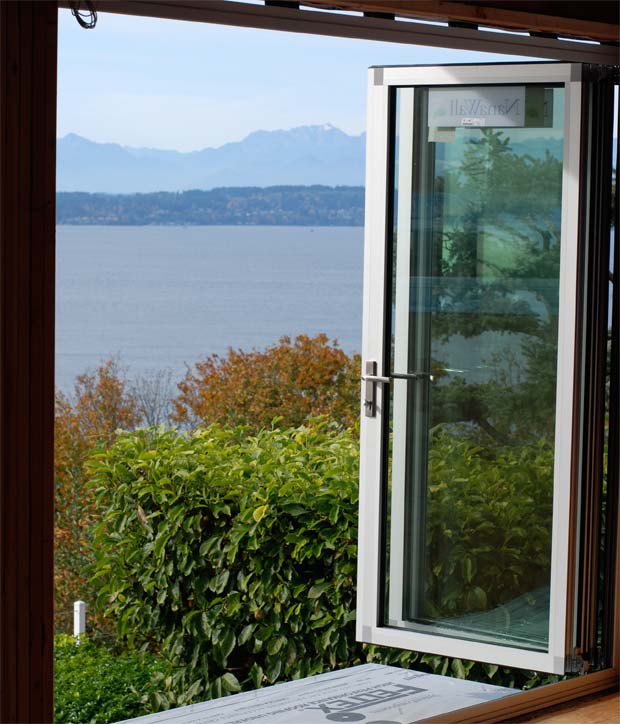 The Milgard sliders
NanaWalls notwithstanding, there were still a couple of spots that needed standard sliding doors: the basement and the dining room. When you look at Milgard sliding doors, "standard" is about the only word that comes to mind. Inexpensive and unremarkable. Kind of like anything from Old Navy.
Motorized skylights
As you can probably tell, the house isn't exactly starved for light, but in the summer, it is critical that it has proper ventilation. In order to suck cool air in and draw hot air out, we made part of the lower west glass operable and installed two motorized skylights at the top of the double-height great room.
The skylights will be tied into the Myro home automation system as well as open and close in reaction to heat and rain.
The roof hatch
What can I say. It's a big ugly steel hatch leading up to the roof deck. Roof access is rarely a pretty thing and this is no exception, but it gets the job done with as small of a footprint as possible.
What's next
Now that the house is 95% dry, the space around the window frames will be waterproofed this week and the entire house will be sheathed in waterproof fabric. Once the house is all covered, the rainscreen paneling and metal roof will be installed. There should be lots of progress on the livecam for the next two weeks.
I've also update the gallery with shots of all the new glass.
Costs accrued during this stage:
| | |
| --- | --- |
| Marlin windows and Milgard doors | $47,052.15 |
| NanaWalls (parts) | $16,554.00 |
| NanaWalls (deposit for install) | $739.13 |
| NanaWalls (remainder for install) | $739.12 |
| NanaWall Screens | $2,978.00 |
| Bilco roof hatch | $5,489.56 |
| 2 Motorized skylights | $2,414.48 |
| Distinctive Windows, Inc. (field glazing) | $525.60 |
| Precision Fabricators (flashing) | $657.06 |