Plans Submitted to City, and Other Updates
December 21st, 2008
A few days ago, Build submitted the official architectural plans to the City of Seattle for approval. There are still some details outstanding like the placement of an extra door, some railing specifics related to the upper stairs, and of course all of the interior details, but apparently unless the outstanding items are significant from a structural or safety standpoint, it's ok to change them later. We ending up using Swénson Say Faget as our structural engineering consultants and their fee was $2915 (Kevin at Build also has a structural engineering background so it was good to know there were two sets of eyes at work). The non-refundable cost to apply for the demolition and construction permits ended up being $5460.75 and was based on the estimated construction cost of the house. In other words, the more expensive the house, the more the permits are. I've been advised that the permitting process takes about six weeks, but since no one in their right mind is building now, it could be quicker.
After initially inspecting the property (at a cost to me of $116.25), the City also required me to submit a full, written geotech report with my application. You may remember that I already paid $350 for a "verbal" geotech report before I bought the property, but I guess when you ask them to write something official up, it's much more expensive. I used Icicle Creek Engineers this time and the charge was $2700.
Other matters
I don't have a whole lot of new renderings to display, but here's one of a proposed ceiling treatment for the living room: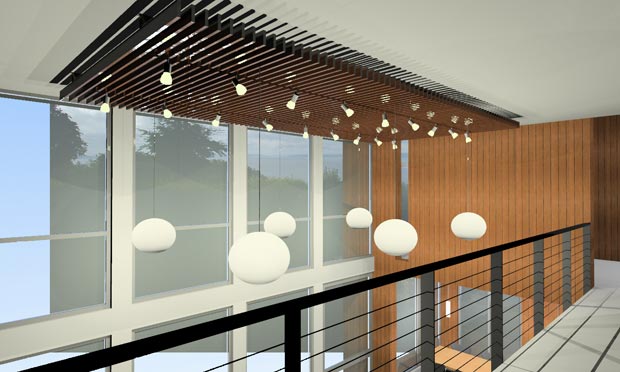 I'm not sure how I feel about it yet, but it — or something like it — will be necessary in order to dampen the echo caused by the vaulted ceilings. The idea is to put something visually nice on the ceiling and pad the area above it with a sound-dampening material.
Also, I'm getting to the point where I need to start thinking about sinks, lighting, appliances, and other interior details. Does anyone have any recommendations as to where the best places to shop online for that stuff is? I'm interested in sites which showcase hardware, lighting, and appliance design as well as retailers where you can actually buy the stuff.
Costs accrued during this stage:
| | |
| --- | --- |
| Miscellaneous expenses | $223.00 |
| City of Seattle initial site inspection | $116.00 |
| Written Geotech inspection | $2,700.00 |
| City of Seattle Demolition and Building Permits (Deposit) | $5,460.00 |
| Structural engineering services | $2,915.00 |