Zeroing in on One Design
October 13th, 2008
Last Friday's meeting was all about zeroing in on one design/floorplan and going over initial cost estimates. At this point, I'm very happy with the general floorplan and how the house looks from the back (the view side). The front of the house and the cost, however, need a bit of work. Below are the latest renderings and schematics:
Back side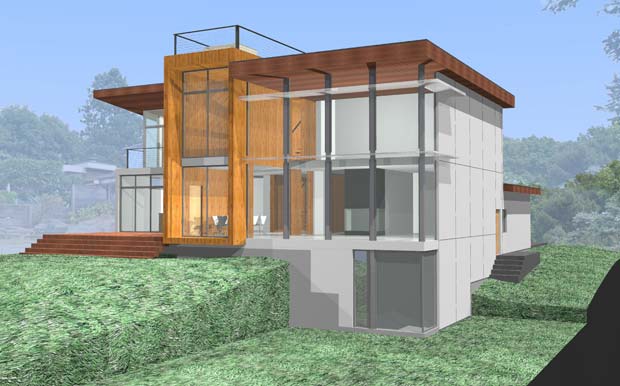 Front side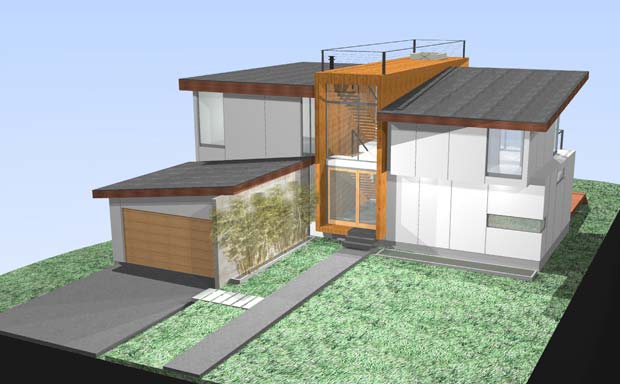 Main floor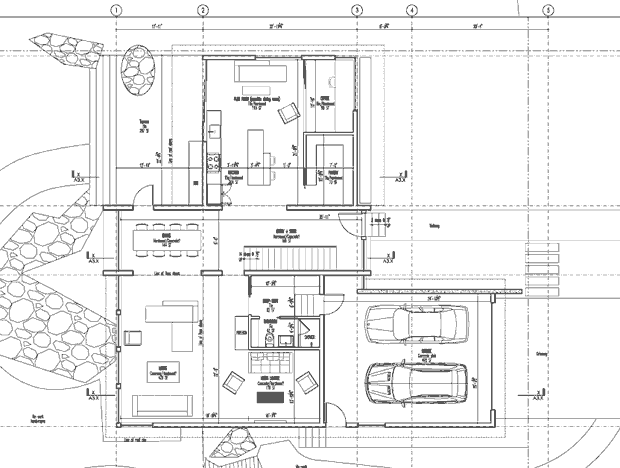 Upper floor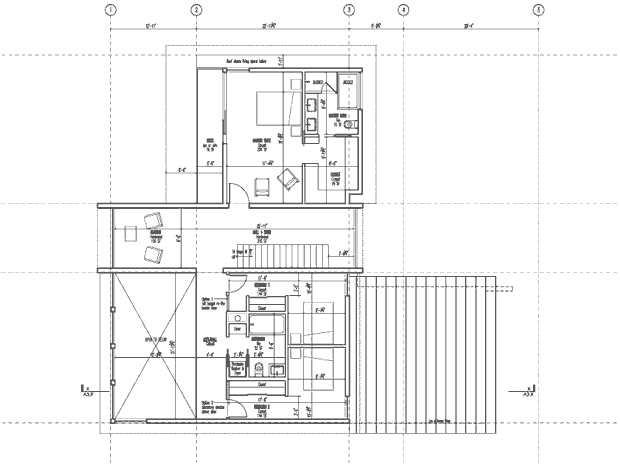 I think the back is looking really great. The major addition since the last renderings is the rooftop deck with the hot tub. We're still figuring out how the roof access is going to work, but a hatch seems like the most cost-effective, least obtrusive (albeit a bit ghetto) solution.
The floorplans are also looking good, with the main floor really opening up, two flexible locations for the dining room (west edge or north edge), and an upper floor that accommodates the requisite three bedrooms. I still have a punchlist of things for Build to nudge around in the floorplans but nothing major.
The front of the house, however, is still not quite doing it for me. It just hasn't achieved the Feng Shui that the back of the house has yet. I don't know if it's the angles, the paneled siding, the colors, or what, but it's just not there yet. We're going to experiment with some siding and color options as well as modifying the angles and lines until we achieve curb appeal nirvana.
And now for the costs.
Ohhhh the costs.
Let's just say they are too high. It's not Build's fault as they are just estimating materials and labor for a house of this size and finish, but as the house is currently spec'd, it's about $400k over my anticipated budget.
That's a lot.
I'm not sure what we are going to do about it yet, but I'm glad we're having this conversation at this stage rather than mid-construction. I've heard plenty of horror stories about architects underestimating projects only to have the homeowner vastly overextend themselves in order to finish the project. In Build's words, they are trying to "make sure any financial surprises we run into will be positive ones".
I like that.
We're going to meet this Friday to discuss packages of things we can possibly save money on.
With the stock market sinking a whopping 18% last week, I have major questions in my head about what the cost of construction labor and materials will be come spring when we break ground. I have thought for the last several months that the cost of construction would decrease as the economy soured but have been told that so far, that hasn't happened. That's all well and good because before last week, the decline in the economy was a slow bleed, but last week was extremely damaging. It wasn't just damaging to wall street fat cats and hedge funds. It was damaging to anyone and everyone who has any money invested in the stock or bond markets. In my opinion, it was the sort of calamity that is going to finally cause people to really watch their spending.
Everybody is always so quick to talk about how the American consumer borrows and spends above their means, but I think this episode shook a lot of people to their core. I think it canceled a lot of vacations and certainly canceled a ton of construction projects — indefinitely. When I think about how many construction projects will break ground in my neighborhood this spring, I think there is a real possibility that I'll be the only one. Who knows.
Although the financial crisis we're going through right now is a terrible thing, I'm hoping the cost of building a house during it will be commensurate with the reduction in wealth we're seeing in the equity markets. If anyone has any good web sites at which to track the cost of materials, let me know. I know the cost of both lumber and copper have plummeted, but beyond that, I have no idea.